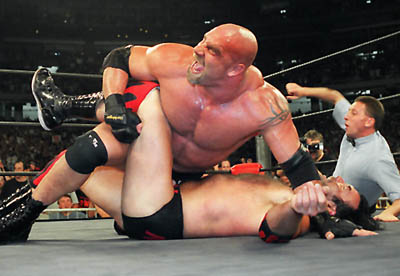 I have a confession.  I used to have a problem. During my teenage years, for about 18 months, I watched professional wrestling. Religiously.  Each week, I watched the three hours of "Monday Night Nitro" and the two hours of "Thursday Night Thunder."  In a strange coincidence, I was also often available to watch the hour-long Saturday night special as well.
I remember being in southern California on a family vacation during this time. All my dad's family was there, and a beach volleyball game started up one night.  The sun was setting on the still-warm sand, and between the family and the beach, it was quite the idyllic setting.  I, however, was nowhere to be found on the beach.  I was inside, watching "Nitro."  That night, Lex Luger, aka the Total Package, finally defeated Hulk Hogan for the championship belt.  At long last!  I came running out onto the beach, screaming the good news to my family.  My dad looked as if he was going to just start wading out into the water, never to be heard from again. I came to my senses and quit watching, cold turkey, shortly thereafter.
So I haven't given much thought to wrestling lately. . .until yesterday.  Back in Salt Lake on spring break, I obviously had to hit up my all-time favorite restaurant, Hires Big H.  The Big H, their signature burger, is a marvel; the Double H is the burger that makes the Whopper cry. The Double Country H (with bacon) is simply culinary perfection -- that's what I usually order. So imagine my surprise when the waitress told me that, off the menu, one could order the
Triple H
.
What does this all have to do with wrestling?  Take a look at this walking steroid here: that's Hunter Hearst Helmsley, aka Triple H.  Also wrestling under the names Jean-Paul Lévesque, Terra Ryzing, and the Connecticut Blueblood, Triple H developed his famous but incomparably crappy finishing move, "the Pedigree."
As I sat in my blue vinyl chair at Hires, my mind flashed over the countless foes who suffered ignominious defeat at the hands of Triple H.  I myself had never squared off against such a massive burger in my storied burger-eating career. Would I be man enough to handle it?
Of course I was.  I pounded the burger and then chased it with Hires' signature fries and raspberry shake.  Take that, Triple H.